Ex Libris Pivot-RP (Touchstone required) provides access to currently available research opportunities from various funding sources (federal, foundation, private) and a mechanism to connect with researchers from other institutions. Pivot's searchable and curated database of global funding opportunities covers over 13,000 public and private sponsors and over $70 billion of funding.
Creating a User Account
To auto-generate your MIT information into Pivot, sign in with your MIT account: 
Go to Pivot.
On the sign-in screen, select Use login from my institution.
Search for Massachusetts Institute of Technology. 
Sign in with Touchstone.
Image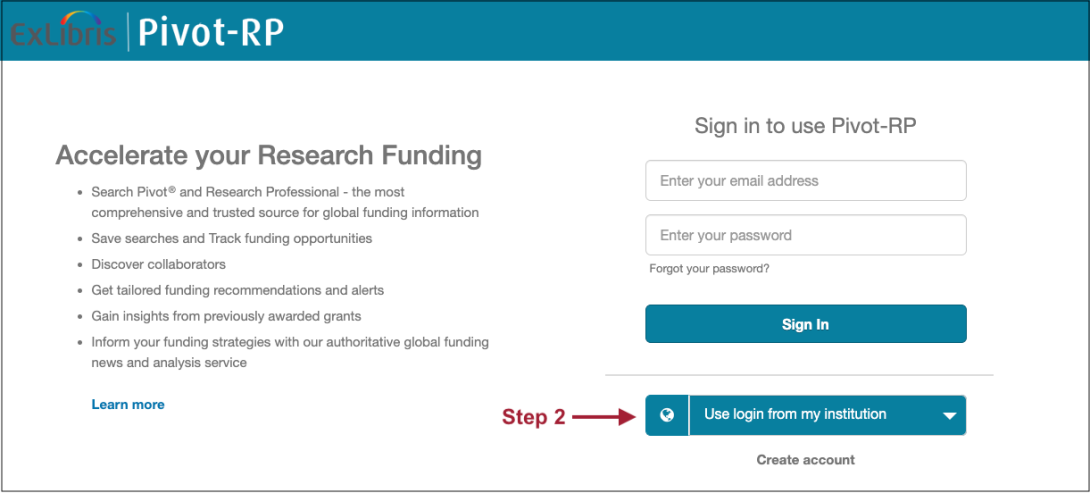 Profiles
A researcher profile in Pivot is associated with an institution, published papers, and funding opportunities. 
When you first log in to Pivot-RP, you can either claim a profile as yours, if one already exists in Pivot-RP, or you can create a new profile. You can manage your own profile, or you can designate one or more other users to manage your profile; these users are known as profile proxies or just proxies.
For information on personal data used in Pivot-RP, including how to view and remove this data, see Managing Personal Data in Pivot-RP.
Searches
In Pivot, you can do a basic or advanced search, or search by sponsor. Save searches to receive a weekly digest of new opportunities matching your criteria and see new results for those searches when you log into Pivot.
Funding Opportunities
Funding opportunities in Pivot list the sponsor, funding category, amount, application requirements, deadlines (if they are a limited solicitation), and where to find more information. 
Track an opportunity to receive updates when the opportunity changes and to get personal reminders about the opportunity's deadlines.
You can also share opportunities, browse opportunities shared with you, or add deadlines to your calendar.
Pivot Help and Documentation
You can also contact the Pivot Support Team.
For other questions, please contact the Research Development Team at ResearchDev@mit.edu.